Sending your clients and suppliers messages on their birthdays and anniversaries or just plain "how do you do" messages goes a long way in cementing and boosting the relationship between your clients and you.
I always experience a feeling of importance whenever I receive such messages from banks even when I know my money with them doesn't in any way affect their pockets.
Placing clients on high pedestals isn't for big organizations alone; you don't have to chair a multi-national company before you start putting your clients' well-being into consideration.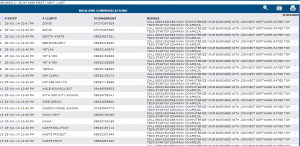 All ETN.CONNECT softwares assist you in creating a long-lasting relationship with your clients and suppliers. You can either communicate with them individually or collectively via SMS or E-MAIL. You don't need to subscribe for bulk SMS  separately to do this .

You get pop ups on clients' anniversaries; all you need do is select your preferred medium of contact.
A poor client relationship can stunt a company's progress
Get any of our softwares today and boost your relationship with clients and suppliers.
Visit www.etnconnect.com or call 08031920068 for more information.