.Connect Bill Pay is a financial management software solution that helps to generate bills and as well manages payments and generates accurate and appropriate reports.
.Connect bill pay allows the flexibility of setting up as it suits your company's goals. From the "ADMIN" module, click on "SETUP" as shown in the image below.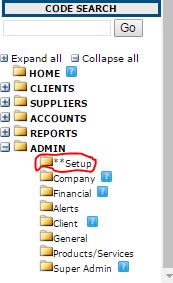 A page will be displayed, then proceed to input details into the tabs; Account, Bank Accounts, Vat, product types, products and Contractor Types. Input the right data so as to ensure working with correct data.
N.B – Click on all Tabs highlighted in red to fill in data and always click on the "LOAD DATA" tab when done, That is to ensure uploaded data are stored in the software.
1. Account – this is where you input the company's chart of accounts, whether expense, income, liability or cost of goods.
2. Bank Account – enter all active company accounts that are involved in business operations. Ensure all bank status is active and indicate if the bank allows overdraft on said bank accounts. The AUTO DEPOSIT if "yes" means all incoming payments will be automatically deposited in similar bank account in the software.

3. Vat – input the different vat percentage your company uses. E.g 5%, 10%, 7.5%

4. Product Types – Upload your product categories
5. Products – Load your products, link them to their product types, their sales account and income account (those would have been created when inputting chart of accounts.)
6. Contractor Types – input the categories of your suppliers/ contractors. Those that bills are generated for.

.CONNECT BILL PAY is a software developed by ETN.CONNECT NIGERIA. We are a software development company that provides all software-related applications that puts your company ahead of all others. Kindly contact any of our business solutions specialists on 08182542535 & 08031920068 or visit our website www.etnconnect.com