To set up financials, click on the "Financial" tab under the Admin module. Input details into the tabs; Account Type, Banks, Currency, Exchange Rate, Payment Type, Term and Transaction Type.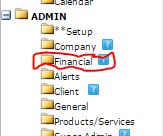 1. Account Type – Click on the account type tab to create different account type such as income, inventory, expenses, bank and cash in hand etc. for your company's transactions. Select the Balance sheet type using the drop down icon and click on "Load Data".
2.Banks – This shows the list of all the banks in the country with their logo. if the name of your bank is not enlisted you can add it from the Tab and click on LOAD DATA.
3.Currency – Click on currency tab to set up your currency name such as Naira, Dollar, Pound, Yen etc. alongside with the sign and "Load Data".

4.Exchange Rate – Click on the exchange rate tab to set your currency exchange rate with date and "Load Data". This can be edited as the exchange rate varies with time.
5.Payment Type – Click on payment type tab to set up your payment type name such as Cash, Cheque or Electronic Fund Transfer (EFT) and "Load Data".
6.Terms – Click on terms to set up your terms name. The term serves as the number of days it will take before an invoice is regarded as an outstanding payment; before it starts reflecting as Account Receivable. E.G, Net 30 (1 months), Net 7 (1 week). To add terms, enter the term name as explained above, enter the number of days in Term Days field and enter penalty percentage (optional) for failure to pay before expiry of net days, click on "Load Data".
7.Transaction Type – Click on transaction type to set up your transaction type name such as payment, deposit or transfer and transaction type description.

.CONNECT BILL PAY is a software developed by ETN.CONNECT NIGERIA. We are a software development company that provides all software-related applications that puts your company ahead of all others. Kindly contact any of our business solutions specialists on 08182542535 & 08031920068 or visit our website www.etnconnect.com